Page Content
Advanced Yoga Teacher Training
Advanced Yoga Teacher Training gives you a far broader and deeper set of skills and insights to bring into your personal practice and your teaching. The "advanced" quality of the +300/500-hour training is not about so-called advanced asanas. Rather, we focus on developing an advanced understanding of how to effectively teach asana, pranayama and meditation practices to all levels and conditions of students. We look in considerably greater depth at each of the topics considered essential in one's ongoing development as a professional yoga teacher.
This program asks for your full commitment to being on the path of the teacher, starting with staying in your personal practice and teaching in an active way. There are several requirements but also considerable freedom to choose specific areas for deeper study and training.
Program Options:
Weekend Intensive Format
Autumn 2020 Session starts September 19, 2020 in Santa Cruz, California
One weekend per month for nine months.
Independent Studies (100 hours) is completed during the nine-months of the overall training. See below for details.
21-Day Intensive Format
Winter Session starts January 13th, 2020
Summer Session Starts July 13th, 2020
Phase I: You will begin your +300 hours with 200 hours of intensive training across 21 days. The topics we cover are described below. While our primary daily focus is on the refined teaching of asana, each day includes other topics, including various elements of teaching different pranayama and meditation techniques.
Our daily schedule is: Mondays - Thursdays 9:00am to 7:00pm, and Fridays/Saturdays/Sundays 8:30am to 5:30pm.
Phase II: Independent Study (100 hours) is done after the 21-Day Intensive. See below for details.
Prerequisites:
Prior completion of a credible 200-Hour yoga teacher training.
Commitment to deeper learning and the development of more refined skills.

What We Review and Refine:
Essential Elements of Asana Practice
Alignment (what goes where), energetic actions (what one is actively doing with muscle engagement and release in asanas and transitional movements), key modifications, and precise use of props.
How to observe and accurately understand what's happening with unique students in a wide array of postures.
How to design great yoga classes that are informed by intelligent insight and your creative expression of yoga.
How to guide the asana practice with nuanced voice cues, physical demonstrations, and hands-on adjustments.
How to work with student injuries, body differences, and a wide array of special needs and conditi
How to guide less experienced teachers as they learn and develop basic asana teaching skills.
How to create the ambiance and vibe that best expresses your personal sense of yoga and how best to hold the space of your classes.
Practical Yoga Anatomy
The basic human skeletal structure, with priamry focus on cultivating stability and ease in joints.
Different types of bones, joints, ligaments, muscles and tendons, and how the optimally function – and don't function – in postural practices.
The basic kinesiology of movement that is the key to understanding and guiding the movement into and out of asanas.
Close study of the spine, hips, and shoulders as they relate to all seven families (and sub-families) of asanas.
The functional anatomy of breathing and pranayama practices.
Historical and Philosophical Foundations of Yoga
A practical survey of yoga history and philosophy that distills the essential insights for teaching yoga.
The ancient-to-current threads of yoga and how they have developed over the ages, covering the Vedic, Upanishadic, Classical, Modern, and Contemporary periods.
Essential passages from the Vedas, Upanishads, Gita, Yoga Sutras, and ancient theories of physical yoga.
Somatic theory and other 20th and 21st century insights (including from neuroscience) that can inform transformational yoga practices in today's world.
The ethics of teaching, including amid emotional transference and projection that often arises in the student-teacher relationship.
Effective and Innovative Teaching Methods and Techniques
How to teach postures systematically yet compassionately.
How to know what to say – and in what order – in offering verbal cues to classes and individual students.
How to develop and modulate your voice for different instructional purposes.
How to prioritize your technical cues and blend them with inspirational guidance.
How to most clearly demonstrate asanas and give refined tactile cues that assist students in developing and deepening their personal practice.
How to use metaphor, philosophy, and folklore to bring a greater creative dimension to your teaching.
How to give effective, appropriate, and ethical hands-on guidance
How to guide new teachers and teachers-in-training in thi=eir lkearning of essential teaching methods and techniques.
How to work with beginning, intermediate, and advanced students (even when you might not be advanced).
The Business and Profession of Yoga
How establish yourself as a yoga teacher.
How to develop a livelihood as a yoga teacher.
Expanding your yoga resume.
Designing specialized classes and workshops that add to what you can offer as a teacher.
How to market your services using old-school, social media, and innovative marketing techniques.
The basics of developing a yoga studio or retreat center.
How to share yoga in non-traditional settings with a non-profit organization.
How to sustain your passion and energy over a lifetime of teaching.

Deeper Study
The +300/500-hour Advanced Yoga Teacher Training program brings you into deeper study of several topics that you can chose from to tailor your training to your own interests as a teacher.
You will choose a topic for 100 hours of in-depth study and exploration. Working directly with Mark, you will design a way of getting at your topic (readings, discussions, elective workshops, research, self-reflection). Below are optional topic areas for your customized independent study under Mark's direct guidance. Please feel free to propose something completely original, so long is pertains directly to teaching yoga!
1. Optimal Sequencing - The Traditional Energetics of Sequencing (considering Koshas, Nadis, Chakras, Doshic Types and seasonal factors); Sequencing for Peak Asanas; Planning and Varying the Arc of a Class; Sequencing Restorative Yoga; Sequencing for Energetic Effects; The Bio-Mechanics of Asana Relationships.
2. Philosophy, Ethics and History in Teaching - Vedic and Upanishadic Philosophy; The Bhagavad Gita; The Yoga Sutras of Patanjali; Tantra; The Origins and Development of Hatha Yoga; Yoga in the West; The Student-Teacher Relationship; Ethical Business Practices.
3. Advanced Anatomy & Physiology - Subtle Anatomy (Koshas, Prana, Nadis, Chakras); Anatomy of the Pelvic Girdle, Shoulder Girdle and Spine; Anatomy & Physiology of Respiration; Teaching Pranayamas; Applying Principles of Subtle Anatomy in Vinyasa Flow Yoga Classes.
4. Yoga Therapy - Topics include Working with Injuries; Developing a Comprehensive Student Assessment and Practice Plan; Teaching Students with Scoliosis, Lordosis, Kyphosis and other Spinal Issues; Teaching Yoga to People in Pain; Teaching Yoga to Reduce Anxiety and Depression.
5. Specialized Teaching – Topics include Teaching Pre-Post-Natal Yoga Classes; Yin Yoga, Yoga Nidra, Teaching in Institutional Settings (schools, prisons, treatment centers); Planning, Organizing and Teaching Yoga Retreats; Teaching Partner Yoga; Teaching Yoga to Athletes; Teaching Kids; Teaching Seniors.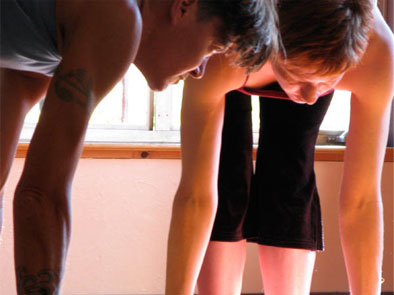 How You Will Learn
The 300/500-hour training is based on experiential learning – learning by doing. We work as a close group with mutually supportive interaction in every aspect of the training. Lectures, group discussions, PowerPoint presentations, the interactive Asana Lab, daily practices, progressive practice teaching, journaling, guiding students in basic teaxher trainng experiences, and readings are all integral components of the learning experience.
This training appreciates, respects, and supports different learning styles, utilizing instructional methods that effectively engage verbal, visual, auditory, tactile and kinematic learners. Everyone is appropriately engaged in developing the essential skills and knowledge for highly competent and confident teaching.
Given that you have previously completed a 200-hour training and have significant teaching experience, in this training you will have the opportunity to mentor 200-hour students, a wonderful way of further refining and deepening your own knowledge and skills.
Advanced Certification Exam
The +300/500-Hour Advanced Yoga Teacher Certification Program concludes with a certification exam. With successful completion of the exam you are awarded the +300 or 500-Hour Advanced Yoga Teacher Certificate and may apply to Yoga Alliance for the RYT +300 or RYT 500 registry.
300/500–Hour Certification Requirements Summary
Complete the 200-Hour Certification Program or show evidence of comparable training and experience.

Complete 300 hours of non-repetitive additional courses and non-contact studies tailored to your teaching interests.

Complete and Pass the +300/500–Hour Advanced Teacher Certification Examination
CALL 888-594-9642 for More Information or Click Here to Apply!