THE YOGA TEACHER'S TEXTBOOK.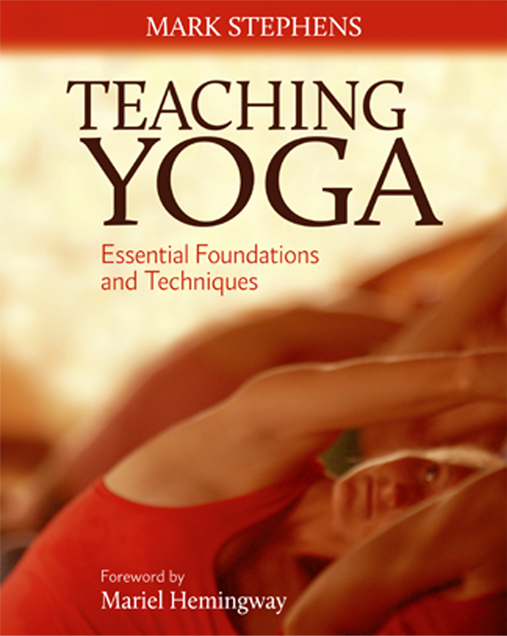 Teaching Yoga: Essential Foundations and Techniques
Paperback, 432 pages
Publisher: North Atlantic Books, 2010
ISBN 978-1-55643-885-1
Dimensions: 8 x 10
Also in Kindle format
"Mark Stephens's all-encompassing tome for both new and experienced teachers provides an exhaustive overview of philosophy, history, yoga styles, and guidelines for practice... Authoritative and engaging, but never dogmatic, Teaching Yoga will help instructors fine-tune their classroom skills and empower their personal practice."
– Yoga International
"Whether you're already a yoga teacher, aspiring to be one, or just seeking to deepen your understanding and practice of yoga, Mark Stephens' thoughtful, eloquent, and thorough book would be a valuable addition to your library"
— Yoga Journal
DESCRIPTION
Teaching Yoga gives a broad overview of yoga philosophy, history, subtle energy, and body structure and movement before going into depth on the practical methods and techniques for teaching highly effective classes to a diverse array of students. Special focus is given to language, setting, vibem pace, observation, and the needs of unique students.
This readily accessible book is written to serve a diverse range of yoga teachers – not just those teaching within one style, brand or lineage. Its eclectic perspective encourages teachers to be their creative best while clear in understanding the foundational of the art and science of teaching yoga.
Available in over 10 languages.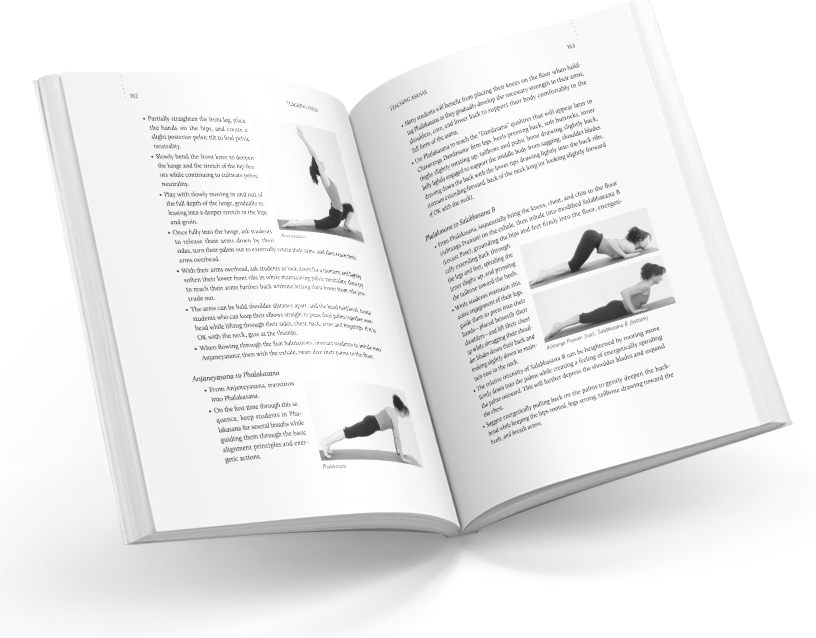 PRAISE FOR
Teaching Yoga: Essential Foundations and Techniques
Foreword by Mariel Hemingway
Introduction
Chapter 1: Ancient Roots of Modern Yoga
The Vedas
The Upanishads
The Bhagavad Gita
The Yoga Sutras of Patanjali
Tantra
Hatha Yoga
Toward Modern Hatha Yoga
Chapter 2: Modern Hatha Yoga
Yoga's Journey to the West
Contemporary Hatha Yoga Styles
A Teacher's Palette of Styles
Chapter 3: Subtle Energy
The Five Sheaths
Prana
Nadis
Bandhas
Chakras
Gunas
Doshas
Highlighting Subtle Energy in Classes
Chapter 4: Body Structure and Movement
The Feet
The Knees
The Pelvis
The Abdominal Core
The Spine
The Shoulders, Arms, and Hands
Anatomy in Teaching
Chapter 5: Creating Space for Self-Transformation
The Physical Setting
Classroom Setup and Orientation
Class Levels and Prerequisites
Class Etiquette
Waking up the Spiritual Environment
Archetypes and Mythology
Creating a Happy Space
A Space for Healing and Awakening
Holding Integrated Space
Chapter 6: Techniques and Tools in Teaching Yoga
Teaching Who Is in Front of You
Voice and Language
Basic Elements of Asana Practice
Instructing Asanas
General Principles in Giving Physical Cues and Adjustments
Modifications, Variations, and the Use of Props
Chapter 7: Teaching Asanas
Surya Namaskara: The Sun Salutations
Standing Asanas
Core Refinement
Arm Balances
Backbends
Seated and Supine Twists
Forward Bends and Hip Openers
Inversions
Savasana
Chapter 8: Teaching Pranayama
The Discovery and Development of Pranayama
The Modern Science of Respiration
Teaching Basic Breath Awareness
Refining the Flow of Breath
Ujjayi Pranayama
Deepening the Pranayama Practice
Consciously Cultivating Energy
Chapter 9: Teaching Meditation
Patanjali's Path of Meditation
Taking One Seat
Six Guided Meditation Techniques
When to Meditate
Meditating Amid the Flow of Body and Breath
Chapter 10: Sequencing and Planning Classes
Principles of Sequencing
The Basic Arc Structure of Classes
Sequencing Within and Across Asana Families
Planning Specific Classes
Sequencing for the Menstrual Cycle
The Chakra Model of Sequencing
Popular Hatha Yoga Sequences
Creating Your Classes
Chapter 11: Specialized Teaching
New to Yoga
Working with Injuries
Working with Depression
Working with Pregnant Students
Teaching in Alternative Settings
Chapter 12: The Yoga Profession
Yoga Teacher Training and Certification
Apprenticing
Teaching Opportunities and Remuneration
Cultivating Abundance
Preserving Abundance
Regulation of the Profession
The Path of the Teacher
Appendixes
Appendix A: Yoga Associations, Institutes, Organizations, and Professional Resources
Appendix B: Glossary
Appendix C: List of Asanas
Appendix D: Asana Elements Notes Bibliography Index About the Author